When it comes to Facebook Groups, I thought I had it all dialed in. But I was in for a rude awakening after having my guest, Aprille Franks, on today's show! You'll hear Aprille break down everything, including: many exciting changes with Groups and new ways to utilize them that'll help build your brand and tribe online. And the best part? It doesn't take much work to implement all this stuff NOW! Get ready to take notes because this info is just too good.
You'll also find out:
Aprille's backstory
Why shifting the mindset around your FB Group is essential
Should your community be free?
The importance of aligning your business objectives with your Group goals
Suggestions on private vs public Groups and rules / settings for each
What is archiving / cleaning up a Group
Thoughts on parameters re: Rules for members in Groups
What frustrates me about FB Groups, personally
The importance of having a moderator for your Group
Different roles for moderators Aprille has for her Groups
How often to post in Groups to provide value, yet doesn't become overwhelming
How strategies differ between types of Groups
How higher level Facebook Groups stand apart
Why using Insights / Metrics for Groups will give you a leg up
Why it's crucial to curate the culture of your Group
Why you must start with your core values when establishing your community
How to convert Group members from freebies into paid clients
Why you shouldn't only communicate with your Group when there's something for them to buy
Aprille's personal take on companies that didn't address race relations in 2020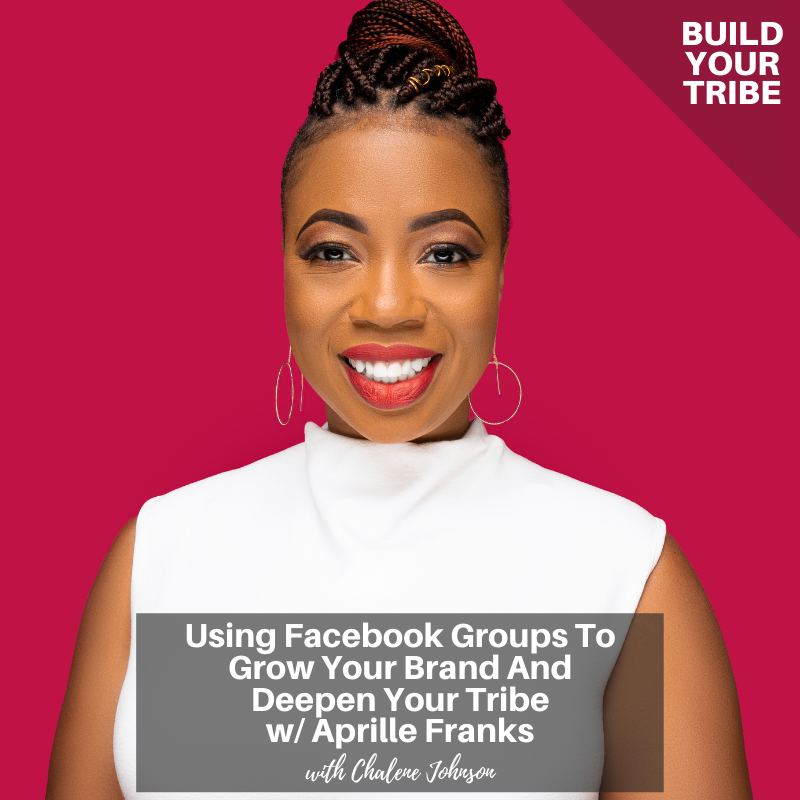 Important Links from the Show
Click here to subscribe to Build Your Tribe!
Click here to rate and review!
Make sure you scroll down, tap to rate with 5 stars, and then select, "Write a Review." Then be sure to DM me with a screenshot and I'll do my best to read your review on the air! 
Join Aprille's 2-Day Bootcamp to learn how to use Facebook Groups to Build Your Business, Facebookgroupsuccess.com/chalene
Follow Aprille Franks on Instagram and Facebook
Learn more about Aprille at aprillefranks.com
If you liked this episode, check out Episode #225 – Facebook Groups | How to Monetize and Grow your Reach at the same time with Bob Heilig 
Leave me a message about this episode!
To submit requests for The Chalene Show: thechaleneshow@chalenejohnson.com
To submit requests for Build Your Tribe: buildyourtribe@chalenejohnson.com