How to Help Your Partner When He or She Needs It
Have you ever noticed your spouse or significant other getting stressed or overwhelmed, but you didn't really know the best way you could help? My husband Bret takes over this Car Smart episode of The Chalene Show to bring you some insight on how to team up with your significant other when his or her workload is overbearing. Learn how you can help your partner when he or she needs it!
The next time there's a stressful situation going on for your partner, you'll know how to help. Bret walks you through some of his go-toes when it comes to helping me out when I'm feeling like a crazy person. As the person on the receiving side of his love and affection, I can honestly tell you that he speaks the truth when it comes to how helpful his tips are. If you're reading this and you want your hubby to listen to Bret's words of wisdom, maybe you should "accidentally" download this episode onto his phone (wink wink).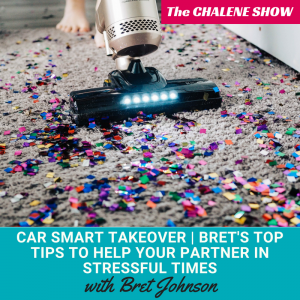 What You Will Learn In This Episode About How to Help Your Partner: 
What is the "Inez Factor"? And how you can use it to relieve stress on your partner. (3:40)

If the person in the relationship who is having a stressful week is the cook… here's what you can do. (5:00)

Why taking care of your significant other and showing affection for them goes over so well. (5:30)
Thank you for listening to this one of a kind episode of The Chalene Show. Bret didn't even tell me he was taking over the show until this episode was already published!! He sure is a man full of surprises. Anyways, hope you enjoyed listening in.
Important Links from the Show
Click here to subscribe to The Chalene Show.
If you liked this episode, check out Episode 318 – How to Improve Emotional Connection with Your Significant Other | The Chalene Show Live in Indianapolis, Indiana.
Leave me a message about this episode!
To submit requests for The Chalene Show: thechaleneshow@chalenejohnson.com