A Straight Up Real Look into the Life of Chalene Johnson
This episode is straight up an honest chat with friends about some of my major life updates. I go unscripted and talk to my Lifers all about what has been happening in my life. I share with you my insights on my own personal life, health, business, family and life in general. You'll finally get some updates on all the things I've been up to BTS and why I 've made the choices I've made in my life as of late.
Finally, I'm here to answer all of your questions. And boy oh boy are there a lot of them! You can think of this episode as a crash course of all the occurrences that have been happening in my life lately. As my fellow Lifers, I thought they'd be important things for you to know about so you can get a better idea behind where my heart and my mind has been lately.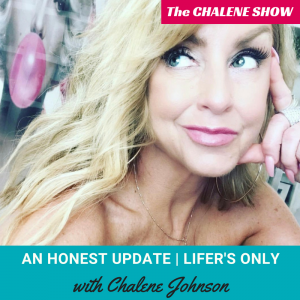 What You Will Learn In This Podcast About My Major Life Updates:
Chalene shares an update about her hamstring injury. (1:30)

Chalene shares an overall health and fitness update, and her journey in realizing what it means to be healthy. (4:50)

How Chalene now defines true health. (5:30)

How Chalene approaches health and fitness advice in the media today. (8:05)

The 131 method explained. (12:15)

Most people now realize "If I get healthy… It's going to fix a lot of things". 15:30

Chalene got ear surgery! (10:10)

Chalene shares an update about the 131 Method book. (16:15)
The only time Chalene cries is when… (21:00)
When you can expect the 131 Method book to come out. (22:40)

Will Chalene release a new workout program? (23:40)

Chalene shares some parenting advice. (28:50)

And more!
Thank you for listening to this episode! I hope you are one of my Lifers OR that you are interested in becoming one. There's always room in the fam for one more. This episode should clear up most of the questions I get from you all on the daily! If you have an important question for me that you didn't get answered by listening in to this episode, then head to the bottom of this page and send me a message through SpeakPipe.
Important Links from the Show
Episode 303 on "How to Heal Naturally"
Episode 301 "Cierra's Story"
Click here to subscribe to The Chalene Show.
If you liked this episode, check out TCS Live Episode recorded in Indianapolis, Indiana for some more insights into my own life and relationship with my lovely husband!
If you're interested in attending a The Chalene Show Live Event near you, head to TheChaleneShowLive.com today! I'd love to see you.
Leave me a message about this episode!
To submit requests for The Chalene Show: thechaleneshow@chalenejohnson.com