This is Part 2 of my interview with Adi Arezzini, CEO and co-founder of Teami Blends. If you haven't listened to Part 1, be sure to go back and listen as you'll get all the background on Adi! In this episode, Adi very graciously covers with us in complete detail how she started her company without any marketing budget, without any money to even pay influencers, to the place it's at today! She tells us how she developed her own strategy which enabled her to work with major influencers, like: the Kardashians and Cardi B (who then helped spread the word and get her message out there). Also, you'll hear the inside scoop on how she got her products into top retailers (e.g., Ulta Beauty), and her plans for the future!
You'll find out…
How Adi and her business partner decided who handles what

The reason why Adi feels she and her business partner have been so successful

The holes Adi saw in other competitive companies

How Adi wanted to differentiate her brand from others

How has Adi shifted the way she thinks in order to reach more people while staying true to her brand message

How Adi makes big decisions with her best-selling products

Has Adi had an influencer represent her tea in such a way that was unsettling to her?

Her (reaching out to) early influencer strategy

When did Adi begin delegating tasks and what that process has been like for her

Adi's biggest influencer get

The risk that you're taking with influencer marketing

Is Adi still in the micro-influencer arena?

Adi's personal algorithm for how she pursues influencers

Adi's current goals with her company and product line

Adi makes her case for why Teami is different than other brands in her category

What is the percentage of male versus female influencers Adi reaches out to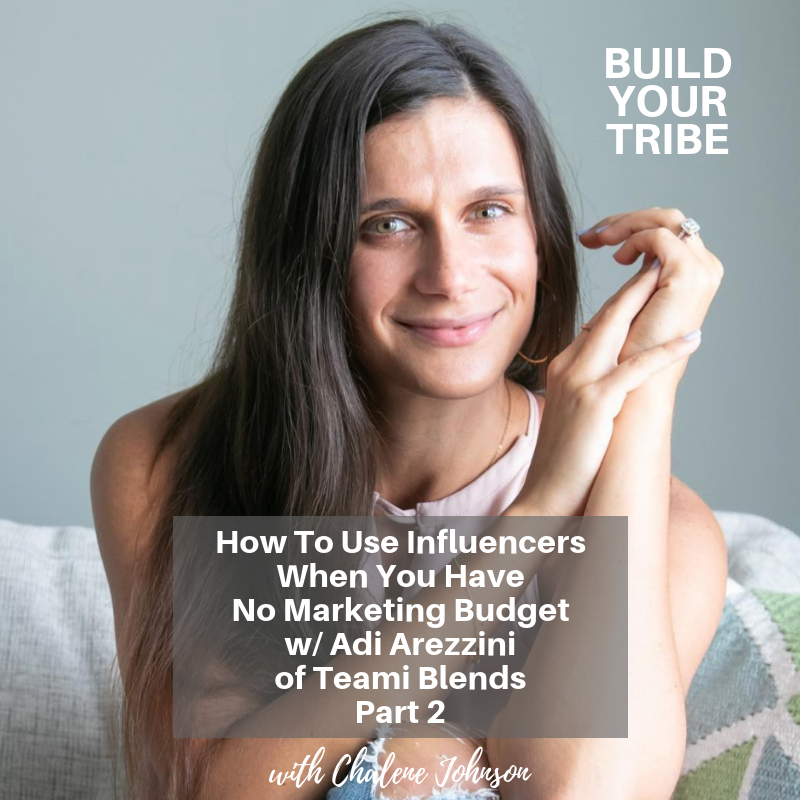 Important Links from the Show
Click here to subscribe to Build Your Tribe
Follow Adi on Instagram 
Follow Adi on Facebook
Website: teamiblends.com
Follow Teami Blends on Instagram
Follow Teami Blends on Facebook 
If you liked this episode, check out Episode #304 –  From Personal Trainer to 8 figure Mega brand in 5 years with Adi Arezzini of Teami Blends ⎮ Part 1 
Leave me a message about this episode!
To submit requests for The Chalene Show: thechaleneshow@chalenejohnson.com
To submit requests for Build Your Tribe: buildyourtribe@chalenejohnson.com