Eliminate Worry In Situations of Uncertainty
How to worry less? This is a common question often disguised as "Help! I don't know what to do!" When you're dealing with a situation that has an element of uncertainty, things that are out of your control – whether it has to do with your health, relationships, job, etc. – anxiety often creeps in. How do you deal with this energy-draining frame of mind? Listen to this Car Smart episode for my quick tips to decrease anxiety and worry less.


When there's uncertainty, believe it or not, we have choice. Most people choose to worry, which is a natural response, because it feels we're protecting ourselves. Instead, we're not only making the situation worse, but we're affecting our health. Let's talk tip to manage anxiety.
What You Will Learn In This Podcast on How to Worry Less: 
Why worry is a choice, and we naturally choose to worry when there's uncertainty.

How having a tendency to worry can be genetic.

Questions to ask yourself to reduce stress when you feel anxious.

The law of attraction and how worrying can actually bring more negativity.

Why it's important to realize that everything happens for a reason and there is always a silver lining.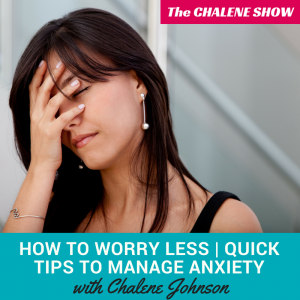 I hear from people every day who are paralyzed by their own thoughts, and I felt like I really needed to record an episode on this topic. Thank you for listening and sharing with a friend that you know needs to hear this, too. I know it will benefit then, and I really appreciate you helping your friends and sharing the word. You are the bomb dot com! I'll talk to you soon!
Important Links from the Show
Here's The System I Use Every Day to be More Organized & Crazy Productive:
www.smartlifepushjournal.com
The Chalene Show is brought to you by: www.131movement.com
Stop dieting & start living! 
Click here to subscribe to The Chalene Show.
If you liked this episode, check out "Simple Steps to Change Your Beliefs."
Leave me a message about this episode!
To submit requests for The Chalene Show: thechaleneshow@chalenejohnson.com
To submit requests for Build Your Tribe: buildyourtribe@chalenejohnson.com