Welcome to another volume of The Alzheimer's Chronicles — where Chalene and Bret open up and share how they're currently coping during this season with Bret's dad and his Alzheimer's. Today's episode has a little more funny than usual. Thank you to everyone for all the love and support you all have sent Chalene and Bret's way!
You'll find out:
Why cellulite tends to show up and where
The correlation between hormones and cellulite
Why some people have a little bit of cellulite and others have a lot
How cellulite is formed
How men and women's connective tissue differ
The biggest factor when it comes to cellulite
Why / how our lifestyle might determine how much cellulite we experience
How circulation plays a role in cellulite
If fascia blasting really works to reduce cellulite
Why it's imperative to reduce inflammation to help with cellulite
How to reduce the size of your fat cells
How your sex hormones determine the way your skin looks
Why women who have higher testosterone and progesterone levels tend to have less cellulite
Ways to increase natural testosterone levels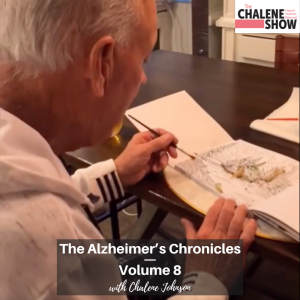 Important Links from the Show
Books on Alzheimer's:
Get the Camera Chalene uses to keep an eye on Bob at http://frndby.co/v/chalenejohnson
Watch a video on Bob the legendary High School Football Coach

If you missed other episodes go here to listen

Check out the new supplement multi packs   I am Myself Again

Join the InstaClubHub to go deep in learning all the latest tips and strategies to Instagram growth and engagement! InstaClubHub.com

Check out all the Discounts and some of Chalene's favorite things at Chalene.com/Deals

Leave Chalene a message at  (619) 500-4819

Leave Chalene a Voicemail review or question  HERE

Go to Chalene.com/MyThing and see what your passion or hidden talents are!!

Leave me a message about this episode!
To submit requests for The Chalene Show: thechaleneshow@chalenejohnson.com
To submit requests for Build Your Tribe: buildyourtribe@chalenejohnson.com