Today, I've prepared a moving meditation — meant to calm your mind and soothe your anxiety. Remember, this format is meant to be listened to while walking outside or laying in a quiet place. I hope you find peace when listening.
You'll hear:
Why I created this episode for you
My past experience with meditation
How I discovered that moving meditations were my answer to relaxing
Places I recommend to listen to these quotes (and where works best for me)
How I suggest to prepare going into this moving meditation (to get the most out of it)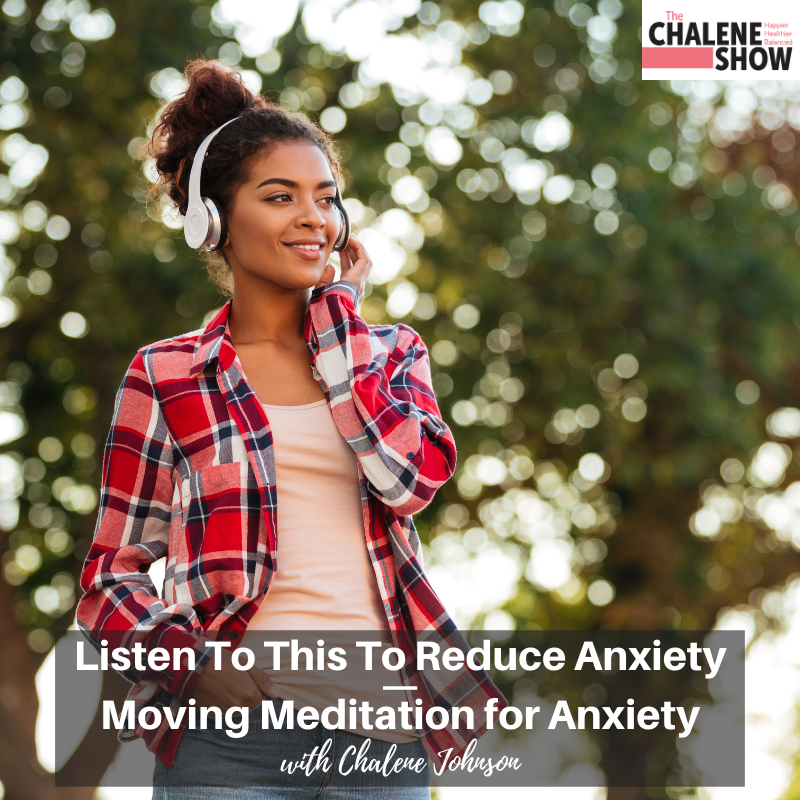 List of quotes from the show:
"There are times when we stop, we sit still. We listen and breezes from a whole other world begin to whisper." — James Carroll
"Breath is the power behind all things…. I breathe in and know that good things will happen." — Tao Porchon-Lynch
"Within you, there is a stillness and a sanctuary to which you can retreat at any time and be yourself." — Hermann Hesse
"Feelings come and go like clouds in a windy sky. Conscious breathing is my anchor." — Thích Nhất Hạnh
"Calmness is the cradle of power." — Josiah Gilbert Holland
"Simply let experience take place very freely, so that your open heart is suffused with the tenderness of true compassion." — Tsoknyi Rinpoche
"Don't try to force anything. Let life be a deep let-go. God opens millions of flowers every day without forcing their buds." — Osho
"Understand this and be free: we are not in our bodies; our bodies are inside us." — Sean A. Mulvihill
"Set peace of mind as your highest goal, and organize your life around it." — Brian Tracy
"Many a calm river begins as a turbulent waterfall, yet none hurtles and foams all the way to the sea." — Mikhail Lermontov
"Doing something that is productive is a great way to alleviate emotional stress. Get your mind doing something that is productive." — Ziggy Marley
"Rule number one is, don't sweat the small stuff. Rule number two is, it's all small stuff." — Robert Eliot
"Give your stress wings and let it fly away." — Terri Guillemets
"The greatest weapon against stress is our ability to choose one thought over another." — William James
"The day she let go of the things that were weighing her down, was the day she began to shine the brightest." — Katrina Mayer
"In the woods, we return to reason and faith. There I feel that nothing can befall me in life—no disgrace, no calamity (leaving me my eyes), which nature cannot repair." — Ralph Waldo Emerson
"Breathe. Let go. And remind yourself that this very moment is the only one you know you have for sure." — Oprah Winfrey
"The more tranquil a man becomes, the greater is his success, his influence, his power for good. Calmness of mind is one of the beautiful jewels of wisdom." — James Allen
"When you realize how perfect everything is you will tilt your head back and laugh at the sky." — Buddha
"If you want the light to come into your life, you need to stand where it is shining." — Guy Finley
"When the world pushes you to your knees, you're in the perfect position to pray." — Rumi
"If you want to conquer the anxiety of life, live in the moment, live in the breath." — Amit Ray
"Don't let your mind bully your body into believing it must carry the burden of its worries." — Astrid Alauda
 "Never let life's hardships disturb you … no one can avoid problems, not even saints or sages." — Nichiren Daishonen
"I promise you nothing is as chaotic as it seems. Nothing is worth your health. Nothing is worth poisoning yourself into stress, anxiety, and fear." — Steve Maraboli
"We must be willing to let go of the life we've planned, so as to have the life that is waiting for us." — Joseph Campbell 
"Trust yourself. You've survived a lot, and you'll survive whatever is coming." — Robert Tew
"You don't have to control your thoughts. You just have to stop letting them control you." — Dan Millman
"Anxiety does not empty tomorrow of its sorrows, but only empties today of its strength." — Charles Spurgeon
"Peace is the result of retraining your mind to process life as it is, rather than as you think it should be." — Wayne W. Dyer
"Be not afraid of life. Believe that life is worth living, and your belief will help create the fact." — William James
"Difficult roads often lead to beautiful destinations. The best is yet to come." — Zig Ziglar
"People become attached to their burdens sometimes more than the burdens are attached to them." — George Bernard Shaw
"Surrender to what is. Let go of what was. Have faith in what will be." — Sonia Ricotte
"If we learn to open our hearts, anyone, including the people who drive us crazy, can be our teacher." — Pema Chodron
"Keep walking through the storm. Your rainbow is waiting on the other side." — Heather Stillufsen
"Today's a perfect day for a whole new start. Let go of fear and free your mind. It's time to open your heart." – Chris Butler
"We can easily manage if we will only take, each day, the burden appointed to it. But the load will be too heavy for us if we carry yesterday's burden over again today, and then add the burden of the morrow before we are required to bear it." — John Newton
"It's a good idea always to do something relaxing prior to making an important decision in your life." — Paulo Coelho
"The greatest mistake you can make in life is to be continually fearing you will make one." — Elbert Hubbard
"You'll never find peace of mind until you listen to your heart." — George Michael
"It's not stress that kills us, it is our reaction to it."— Hans Selye
"Tension is who you think you should be. Relaxation is who you are." — Chinese proverb
"Stop worrying about what can go wrong, and get excited about what can go right." — Anonymous
"You find peace not by rearranging the circumstances of your life, but by realizing who you are at the deepest level." — Eckhart Tolle
"The day you stop worrying will be the first day of your new life; anxiety takes you in circles, trust in yourself and become free." — Leon Brown
"Worry less. Smile. Listen carefully. Take responsibility. Accept what you can't change. Embrace the lesson. Love your life."  — Anonymous
"If there's no inner peace, people can't give it to you. The husband can't give it to you. Your children can't give it to you. You have to give it to you." — Linda Evans
"Do not anticipate trouble, or worry about what may never happen. Keep in the sunlight." — Benjamin Franklin
"There is only one way to happiness and that is to cease worrying about things which are beyond the power of our will." —Epictetus
 "99% of the things you worry about don't even happen." — Anonymous
"No need to hurry. No need to sparkle. No need to be anybody but oneself." — Virginia Woolf
Sometimes you have to stop worrying, wondering and doubting. Have faith that things will work out, maybe not how you planned but just how it's meant to be." Anonymous
"No amount of anxiety can change the future. No amount of regret can change the past." — Karen Salmansohn
"Do what you can, with what you've got, where you are." — Theodore Roosevelt
"Anxiety's like a rocking chair. It gives you something to do, but it doesn't get you very far."— Jodi Picoult
Every time you are tempted to react in the same old way, ask if you want to be a prisoner of the past or a pioneer of the future." —Deepak Chopra
"It isn't enough to talk about peace. One must believe in it. And it isn't enough to believe in it. One must work at it." — Eleanor Roosevelt
"The nearer a man comes to a calm mind the closer he is to strength." — Marcus Aurelius
"My anxiety doesn't come from thinking about the future but from wanting to control it."— Hugh Prather
"Nobody can bring you peace but yourself." — Ralph Waldo Emerson
"Serenity comes when you trade expectations for acceptance." — anon
"Peace is its own reward." — Mahatma Gandhi
"Your calm mind is the ultimate weapon against your challenges." — Bryant McGill
"If we wanted to change the situation, we first had to change ourselves. And to change ourselves effectively, we first had to change our perceptions." — Stephen Covey
"A positive attitude gives you power over your circumstances instead of your circumstances having power over you." — Joyce Meyer
"The mind is like water, when it's turbulent, it's difficult to see. When it's calm, everything becomes clear." — Prasad Mahes
"Never be in a hurry; do everything quietly and in a calm spirit. Do not lose your inner peace for anything whatsoever, even if your whole world seems upset." — Saint Francis de Sales
"Some days, doing 'the best we can' may still fall short of what we would like to be able to do, but life isn't perfect—on any front—and doing what we can with what we have is the most we should expect of ourselves or anyone else." — Fred Rogers
"When you feel overwhelmed, remember: A little at a time is how it gets done. One thing, one task, one moment at a time." —Anonymous
"You wouldn't worry so much about what others think of you if you realized how seldom they do." — Attributed to Eleanor Roosevelt
"Sometimes letting things go is an act of far greater power than defending or hanging on." — Eckhart Tolle
"When you walk through a storm hold your head up high, and don't be afraid of the dark/At the end of the storm is a golden sky, and the sweet silver song of a lark." — Oscar Hammerstein II
"Our stresses, anxieties, pains and problems arise because we do not see the world, others or even ourselves as worthy of love." — Prem Prakash
"In the end, just three things matter: How well we have lived. How well we have loved. How well we have learned to let go." — Jack Kornfield
"It's all about finding the calm in the chaos." — Donna Karan
"Those who are free of resentful thoughts surely find peace." — Buddha
"Patience is not the ability to wait. Patience is to be calm no matter what happens, constantly take action to turn it to positive growth opportunities, and have faith to believe that it will all work out in the end while you are waiting" — Roy T. Bennett
"Love and peace of mind do protect us. They allow us to overcome the problems that life hands us. They teach us to survive… to live now… to have the courage to confront each day." — Bernie Siegel
Important Links from the Show
Click here to subscribe to The Chalene Show!
Click here to rate and review!
Make sure you scroll down, tap to rate with 5 stars, and then select, "Write a Review." Then be sure to DM me with a screenshot and I'll do my best to read your review on the air! 
If you liked this episode, check out Episode #550 – Moving Meditation for Uncertain Times | Coronavirus Relief
Leave me a message about this episode!
To submit requests for The Chalene Show: thechaleneshow@chalenejohnson.com
To submit requests for Build Your Tribe: buildyourtribe@chalenejohnson.com