Change Your Mindset. It's Time to Look on The Bright Side!
This episode is all about self-reflection. Ask yourself, do you have a problem-oriented mindset or a solution-oriented mindset? Problem-oriented thinkers tend to focus more heavily on obstacles and the negatives, while solution-based thinkers tend to be more hopeful and optimistic.
Your mindset can legit make or break you. Therefore, the way you think and your ability to hope matters! Simply stated, a negative mindset will not inspire you to change. Solution-based thinking will and always be where it's at! And good news… you can sure as heck train your mind to think that way!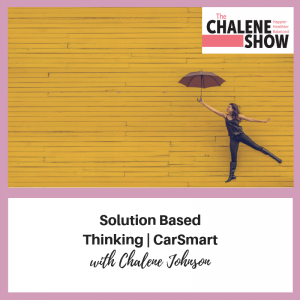 Thanks for listening to this episode. Remember that a lot of times the reason influencing us to find our success often lies in the way we form our mindset. A happy and healthy headspace is more important than pretty much everything!
Important Links from the Show
Click here to subscribe to The Chalene Show.
If you liked this episode, check out Episode 347 – 10 Mental Exercises to Fortify a Positive Attitude.
Leave me a message about this episode!
To submit requests for Build Your Tribe: buildyourtribe@chalenejohnson.com