If you're here, then I'm guessing you, too, relate to the frustration of views being totally inconsistent on Instagram Story. Or, worse yet, maybe you're experiencing barely any views at all.
Well, let's fix that!
Here are 6 tips to get more views — AKA attention and engagement — on Instagram Stories…

Tip #1: Use different kinds of posts.

For example, you can:
Upload a picture or video
Do a boomerang
Super zoom
Focus mode
Rewind mode
Hands-free mode
Music mode
And more!
Once you've decided on what kind of post, consider using:
Music
GIFs
Text
Drawings
Emojis
And more!
When every single one of your uploads to Stories is a shared post from some quote you saw or you talking directly to camera, your audience will get bored. Plain and simple.
You must continue to vary your content to increase views and keep the audience engaged. It will keep followers on their toes and on the edge of their seat.
Tip #2: Use hashtags.

Best practices with hashtags change often, but it seems using 3 to 5 may be best. That said, you're allowed up to 10 hashtags in Stories.
Long story short (and to be totally candid), we don't exactly know how hashtags work on Instagram Stories. We DO know, though, that if you add a hashtag to your Story, you aren't guaranteed your Story will make it onto that hashtag.

Case in point, not everyone who uses #fitnesslover will get on the #fitnesslover Story. Why? Well, that Story would just be way too long and, then, no one would ever watch it. Right?
So, every single day Instagram curates their hashtag stories.
But that doesn't mean we shouldn't use hashtags! It just means that while they're not the best way to grow our following on Stories, they STILL serve as potential to get new eyes on our posts.

Tip #3: Post throughout the day.

Don't just post a bunch of times at night or in the morning or whenever you remember. You must post a little here and a little there.
And now I have tips just for this tip:

A) Set a reminder in your phone for every 2 or 3 hours.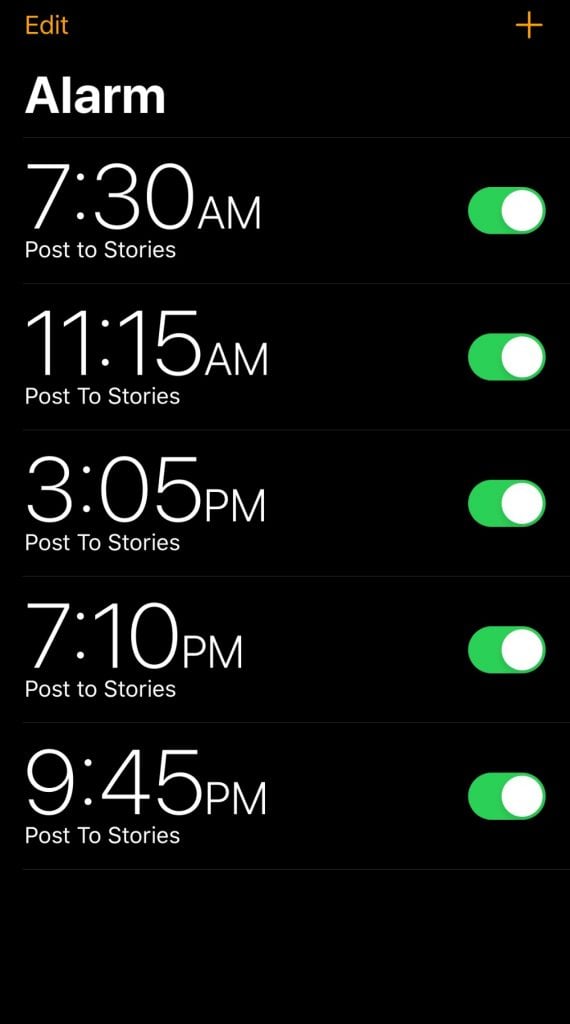 B) Focus on documentation rather than creation. Meaning, rather than trying to create some beautiful picture with all kinds of texts and things, just document what you're doing.
Tip #4: Post in your feed about your story.

This is starting to become a trend, if you haven't noticed. People will include a paragraph(s) in their caption — a personal problem, a solution, a question, etc.  And at the bottom of their caption you'll find, "Please go vote in my Instagram Stories" or "Just reply in my Stories" or "Leave me an anonymous message in my Instagram Stories" or "Ask a question at my Story"…

Curiosity marketing works here, too. "As I talked about on my Story earlier today, I've been having a tough time this week." This will lead your followers to want to engage and watch your story. Hence, views, views, and more views!
For the 5th tip (plus, a BONUS tip), listen to the Build Your Tribe episode below…
And make sure you're subscribed to Build Your Tribe for weekly social media hacks!