5 Ways To End Overthinking Immediately
Do any of the questions below sound familiar?
"Okay, did I offend that person?"
"Am I actually going to finish this assignment?"
"Why isn't she responding to my text messages?"
"Do they think I'm strange?"
"Should I just reach out to him?"
"Which project should I start first?"
"Should I clean the house or exercise or start working on stuff for my business?"
If these questions do, indeed, hit a little too close to home, then today's episode is custom built for you!
But listen, having repetitive thoughts is what makes us human. In fact, it's what the brain is designed to do… protect us! So, the reason we have all these particular thoughts is because we're trying to make sure we don't get harmed. It's a primitive way of thinking.
"Don't get eaten by a predator!"
Sometimes, though, our wiring goes wrong, and we're headed on a downward cycle. We're left feeling consumed, overwhelmed, and paralyzed by these thoughts.
Figure out how to stop the madness by listening to the episode now!
You'll also find…
Additional examples that suggest you may be an overthinker

The difference between an overthinker and a perfectionist

3 reasons why you must put an end to this vicious cycle of thinking too much immediately
5 ways to stop the process of overthinking today
How I learn from my mistakes — both business and personal
Why you should start messy and plan to fail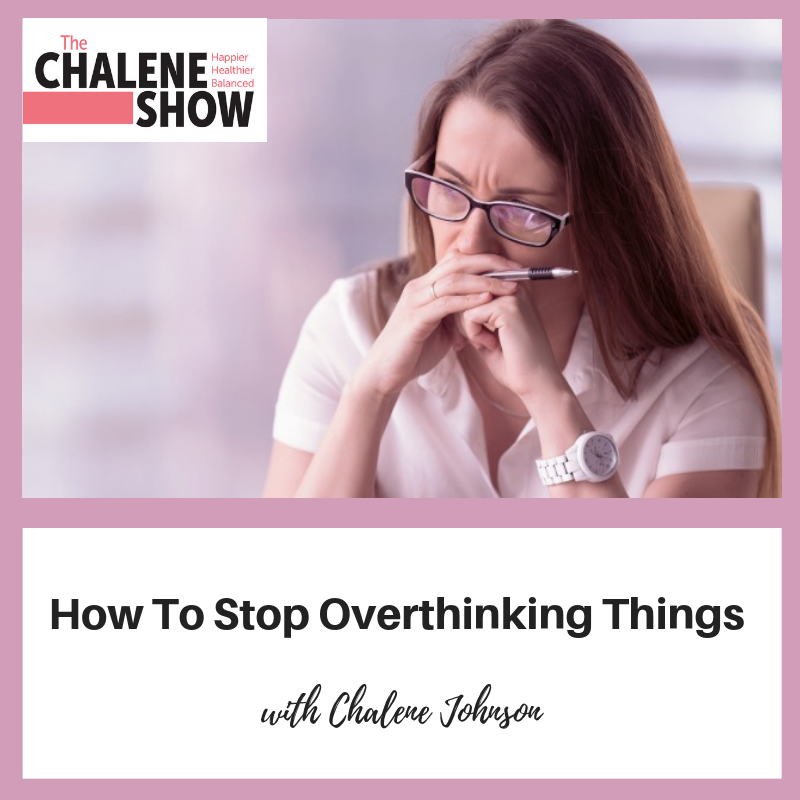 Important Links from the Show
Click here to subscribe to The Chalene Show!
Pre-Order your 131 Method book!
After you purchase the book, ENTER YOUR ORDER NUMBER and receive a FREE MINDSET SERIES!
Get your tix for The Chalene Show Live at The Saban Theater in Beverly Hills on April 18th!
Are you using Instagram Stories or in our new Facebook PodSquad? If yeah, do me a favor and take a screenshot of The Chalene Show (as you're listening) and put a little note on it — like what you loved about the episode (maybe it's a quote from the show) and be sure to @chalenejohnson! This way, I can re-share it on my Story, mmmkay?
If you liked this episode, check out Episode #291 – Why You NEED Alone Time
Leave me a message about this episode!
To submit requests for The Chalene Show: thechaleneshow@chalenejohnson.com
To submit requests for Build Your Tribe: buildyourtribe@chalenejohnson.com