Plus! How To Make The Holidays Happy (If You Struggle This Time Of Year)
The holidays are in full swing and, if you ask me, it's a time of reflection, joy, and beauty. But it's not ALL rainbows and unicorns – even if you love this time of year. There's all kinds of added stress, too.
Maybe you're racing with time to accomplish that ONE stubborn 2018 goal that keeps eluding you. Or, perhaps, you're forced to spend Christmas with your (very grumpy) family. Or, your bank account has tumbleweeds blowing through it… making gift giving a freakin' challenge.
Let's be honest, it's just plain real to be experiencing all kinds of emotions during this time of year.
Because of which, I thought I'd dedicate a chat in this week's Snapshot to those of you who do find the holidays a challenge. It's so important to me that you live your best life EVERY day. No matter the season.
But let's start with something fun, urgent, and game-changing! A fashion hack that YOU are always bugging me about. Well, wait no more!
Fashion Chat – #1 Hack For Off-The-Shoulder Tops!
Of all the items we ladies have in our closet, off-the-shoulder tops (and dresses) have got to win the top prize for all-around fussiness. I mean, really… if they didn't look so darn cute, we would have retired them eons ago. Am I right or am I right?
Now, if you've been around these parts for even just a little while, then you know I'm obsessed with this always trendy — be-all and end-all — summer staple. So much so, that I wear them year round! Here's the thing, I'm CONSTANTLY asked how I keep the shoulders from riding up.

Well, it's time to put an end to the madness! Here's one of my favorite styling hacks! All you need is a hair band and two safety pins! Ready? Check it out!
Personal Development Chat – How To Make The Holidays Happy (If You Struggle This Time Of Year)
I filed this chat under personal development, but it could just as easily fit under Relationships, Family, or even Health. See, for millions, the holiday season can leave them feeling more Bah humbug than Holly jolly. This stress can begin as early as October – when Christmas decorations have already begun crowding shelves at your local Whatever Hypermarket! But anxiety really kicks into high gear right after Thanksgiving (on Black Friday, to be exact) – lasting all the way to New Year's. There's a demand in the air to be joyful…
Holiday TV specials

Christmas music blaring wherever you go

Commercials featuring presents exchanged between loved ones

Social media posts with happy families partaking in holiday traditions
I mean, one of the most famous Christmas songs ever actually tells us: "It's the most wonderful time of the year / It's the hap-happiest season of all!"

BUT NOT FOR EVERYONE.
People who suffer from the holiday blues find themselves experiencing many physical symptoms, including: sleeplessness and gut issues.
And did you know that women – far more than men – report heightened levels of stress during the holidays? It's not a surprise when you consider that, in most households, women are in control of the festivities – particularly those duties related to prepping meals and decorating.
So, how does one snap out of it and get their groove back BEFORE the clock strikes 12 on NYE? Glad you asked…
Nothing – and I mean NOTHING – helps you crush the action items (mentioned in the video) better than your PUSH Journal. If you're ready to get out of your Xmas funk and/or just overall crush this season AND 2019, then you need to pick up a set, stat! And dude, brand new colors have arrived! We're talking a super limited edition power pallet – with rose gold coil!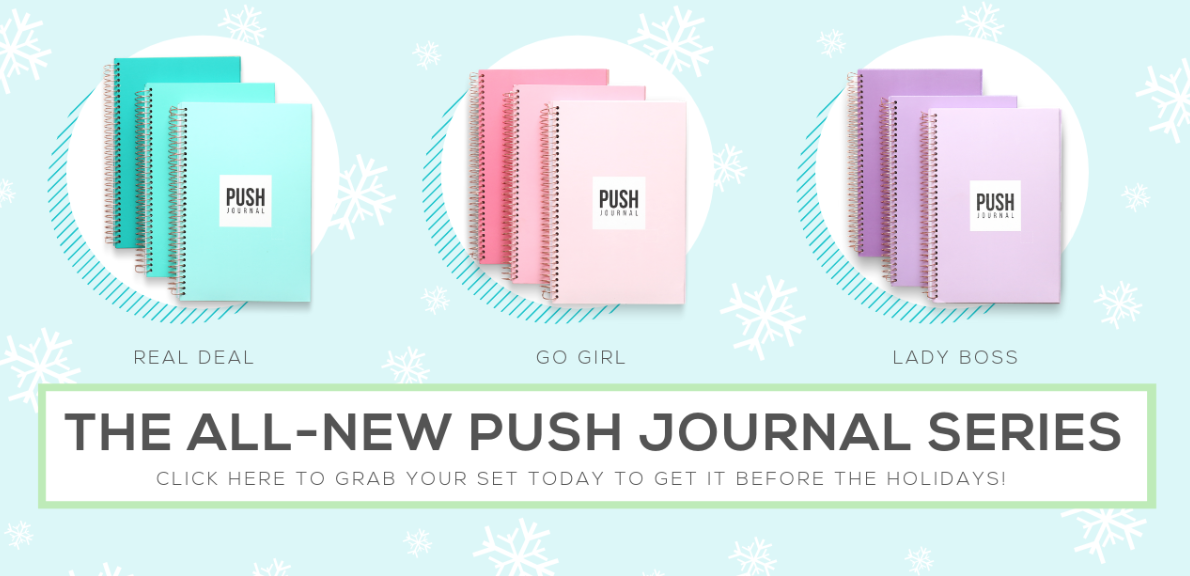 These will sell out FAST! Limited quantities! Order now!
Now, with all that said and done, if you truly are feeling quite low during this season – for long periods of time – do me a favor and call someone. Especially, a professional. Be smart.
There are people who need you and people who would LOVE to be there for you.
National Suicide Prevention Lifeline – 1-800-273-TALK (1-800-273-8255).
Love you. Mean it.
XOXO
Chalene